BURNT CEDAR
712 Lakeshore Boulevard
Incline Village, Nevada
Award-winning, year-round Incline Village beach house showcasing dramatic mountain modern luxury architecture as art without sacrificing the purposeful function of daily living. Designed by Greg Faulkner and built by Crestwood Construction, Burnt Cedar was designed for the car passionate family. Nestled near the shores of North Lake Tahoe in Nevada, this timeless and contemporary home faces the lake with full height glazing that encloses a loft-like plan with double height living spaces. Sounds are softened in the expansive space by the design of perforated wood ceilings and acoustical plastered walls. A minimalist design meant to connect the breathtaking landscape with the dramatic design of steel, eucalyptus wood, glass, and concrete.
Slightly set into the slope, the home was designed with an excavated underground garage allowing level access to the street and ample space for an eclectic car collection.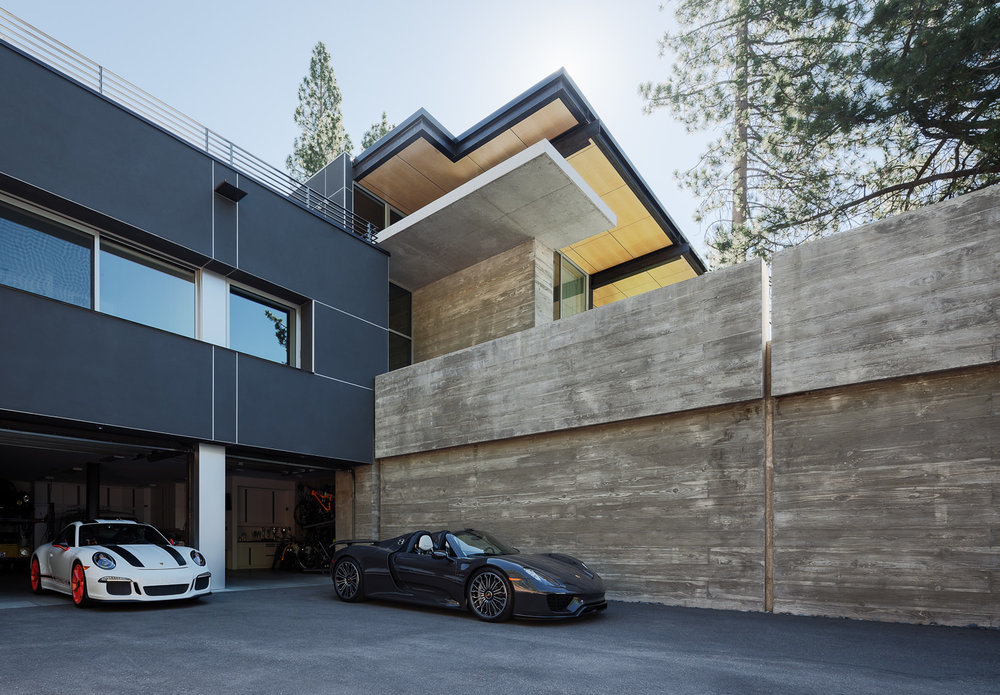 Designed to feel like the home fits the landscape, the home maintains a feeling inside of bright natural lighting and shadows, mirroring the shift of daylight on the sixty to ninety foot Ponderosa and Jeffrey Pines that populate the lake shore of Incline Village.
Listing:
4 Beds | 3.5 Baths | 5,309 SqFt
Offered for $12,650,000

Listed by Tahoe Luxury Properties
Project Info:
Construction Year, 2015
Location, Incline Village, Nevada
Architecture, Faulkner Architects
Contractor, Crestwood Construction
Interior Design, EKR Design Studio
Awards:
Tahoe Quarterly Mountain Home 2020, Modern Home Award
Wade, Stephanie. Burnt Cedar, Faulkner Architects' Striking House on the North Shore of Lake Tahoe. Ignant, 03 March 2020. Print and Web.
Mauk, Laura. Scene Stealer: This Minimalist Lake Tahoe House Makes a Splash. Wallpaper*, 13 October 2017. Print and Web.
Baum Lagdameo, Jennifer. An Uplifting Lake Tahoe Retreat Uses Light as a Building Material. Dwell, 10 May 2018. Web.
Eldredge, Barbara. Modern Tahoe Retreat Frames Stunning Views. Curbed, 09 January 2018. Web.
McKnight, Jenna. ìFaulkner Architects Creates Family Home with Sweeping Lake Tahoe Views. Dezeen, 08 January 2018. Web.